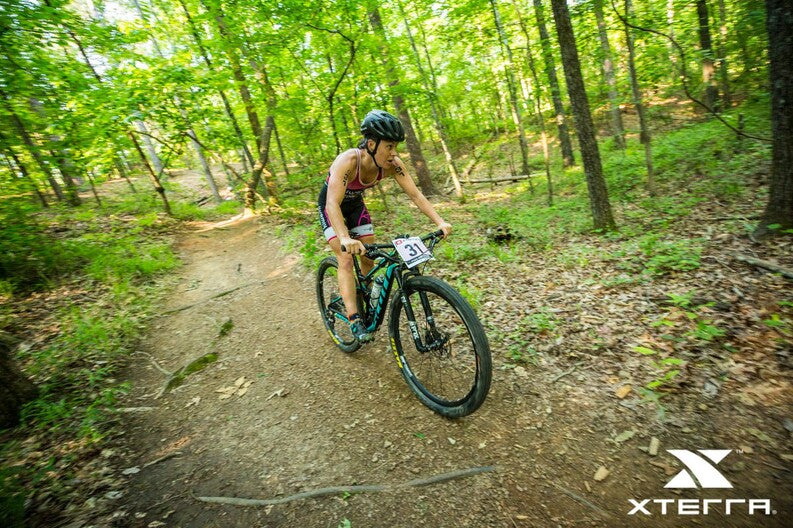 An interview with #teamnothingnaughty Xterra Athlete Samantha Kingsford
Hailing from just down the road in our very own Tirau, previously a local high school P.E teacher and now charging around the world as an Xterra (off-road triathlon) athlete.  With a recent string of wins and awesome results in North America this humble farm-girl has her sights set on the stars.  We get in on some of the nitty gritty below..
1. When and how did you get into xterra racing?
I started racing Xterra in 2018. Prior to this I was working full timas as a P.E teacher. 
When I was at University I started doing a bit of Road Triathlon but mainly just as an age grouper – My twin sister got me into the road triathlon as she was racing for NZ and told me I should race Worlds which was in NZ one year.   My Triathlon career was put on hold when I became a teacher though, and I just remained active in running and cycling.

I got into racing Xterra through my Boyfriend and coach, Sam Osbourne (Also fueled by Nothing Naughty). He had been going overseas racing for a few years and I wanted to get in the on the action too.
 
2.    What are your current goals? And any big hairy goals for the future?
My Goals for this year are to win the Pan American Tour and to place in the top 5 Pro women at Xterra worlds in Maui. As for the future.. they always say reach for the stars… so I would love to be world champion in Xterra one day.
  
3.    What is your own personal definition of potential?
Everybody has potential  You have to believe in yourself that you can achieve the goals you want to achieve. If you don't think you have what it takes to be the best then you wont reach your goals.
 
4.   How do you go after your fullest potential?
Consistent training. Just sticking to the basics and doing them properly. There's no magic pill to make you the best athlete. Its just good honest hard work! And staying focused on what you want to achieve!
 
5.    What is your favourite inspirational quote or saying?
Work in Silence, Let success be your noise. 
6.    What motivates you to get up and train even on the coldest, darkest mornings?
Knowing that my competitors will be training and getting in their sessions makes me get out of bed and train. Wanting to be the best athlete I can be also motivates me to do all my sessions. 
Also loving and enjoying the sport helps. If you don't enjoy what you are doing then your'e not going to be motivated to train each day.
  
7.    Who inspires you and why?
I don't really have anyone who inspires me.. I think just wanting to be the best I can be within my sport is what inspires me to keep training hard and competing.
8.    What are your favourite Nothing Naughty products and what do you use them for?
My favourite Nothing Naughty products are the pineapple protein bars and the fruit bars. But lets face it, all the Nothing Naughty bars are delicious and when you become addicted to them, they become naughty!!  


I use the fruit bars when out riding to fuel me and the protein bars after training sessions.
I also use Nothing Naughty Pea Protein and use this after big sessions.
 
9.    If you could invent a new flavour for a Nothing Naughty bar what would it be?
For the protein powder I would invent a Coffee flavour, as everything's better once you have coffee in your system! As for a bar, I think a blueberry fruit bar would be tasty!