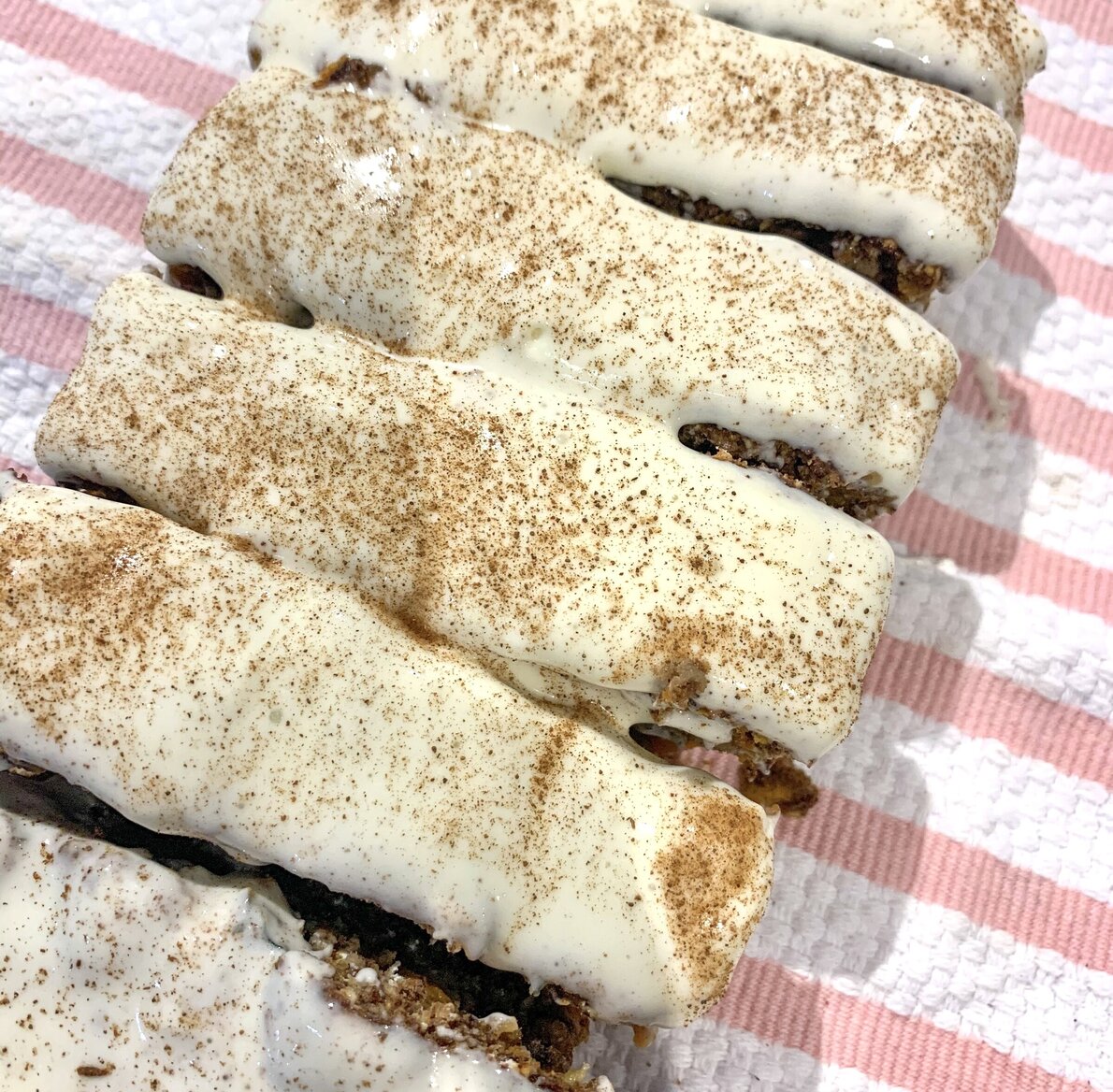 Low-sugar Carrot Cake
A healthy twist on the classic carrot cake using fruit and our keto sweetener to sweeten, and oats instead of plain flour! *For those with gluten allergies oats may be substituted for ground almond or other gluten-free flour alternatives. Recipe created by @aimee.cbrown
Ingredients
1 Apple
1/2 C Mashed banana
1 C Grated carrot
2 TBSP Nothing Naughty Keto Sweetener
50g Nothing Naughty Vanilla Pea Protein
1 tsp Vanilla extract
3/4 C Quick or wholegrain oats
1 tsp Baking powder
1 1/2 tsp Ground cinnamon
1/2 tsp Ground ginger
1/4 tsp Ground nutmeg
1/4 tsp Salt
Icing
60g Cream cheese
40g Greek yoghurt
1 TBSP Nothing Naughty Keto Sweetener
1/2 tsp Vanilla extract
Method

1. Preheat oven to 180 degrees and line a loaf tin with baking paper.
2. Chop apple, removing core and blend until smooth
3. In a large mixing bowl combine blended apple, banana, keto sweetener and vanilla extract. Whisk until smooth then stir in the oats, spices, baking soda and salt.
4. Spoon in the pea protein and gently fold in until combined.
5. Stir in grated carrot being careful not to overmix.
6. Pour batter into loaf tin and bake for approx 30 mins or until a skewer comes out clean.
7. While cake is baking, prepare the icing by mixing all icing ingredients in a small bowl with a whisk or blender until light and fluffy. Store in fridge to thicken until cake is ready.
8. Remove cake from oven and allow it to fully cool.
9. Once cake is cool, spread frosting evenly over top. Serve fresh or store cake in an airtight container in fridge.