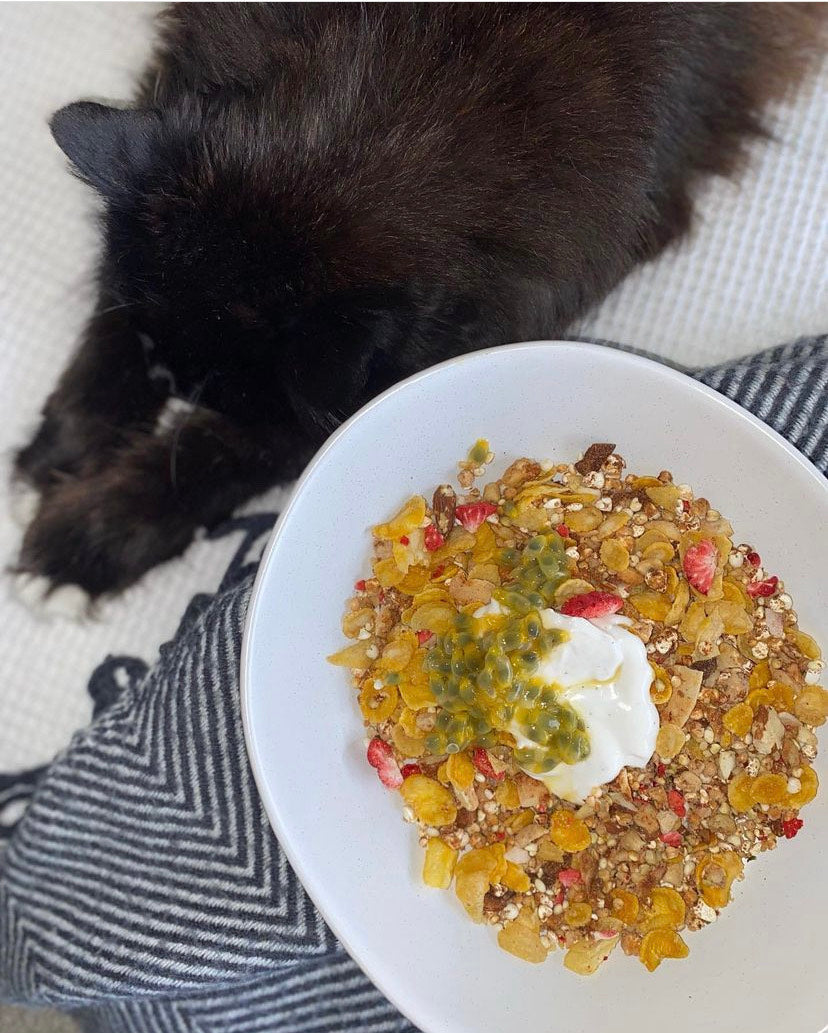 Plant-based protein granola
Delicious low-sugar, gluten-free granola using our pea protein for an added protein hit! A great brekkie paired with coconut yoghurt, plant-based milk or as a topper on smoothie bowls! Created by @littlegreeng
INGREDIENTS
1 1/2 C Puffed buckwheat
1 1/2 C Puffed millet
1/3 C 
Nothing Naughty Hemp Hearts
1/2 C Chopped almonds
1/2 C Chopped cashews
50g
Nothing Naughty Pea Protein (Vanilla or natural)
4 TBSP
Nothing Naughty Fibre Syrup
2 C Gluten-free cornflakes
10g Freeze-dried strawberries
1/2 C Coconut chips
Pinch of salt
METHOD
1. Pre-heat oven to 180 degrees celsius
2. Place coconut chips on a tray and bake for approx 25 mintues or until toasted, then set aside.
3. In a large bowl mix together puffed buckwheat, millet, almonds, cashews, hemp hearts, protein powder and fibre syrup.
4. Spread mixture across a lined baking tray and bake for 8-10 minutes or until golden brown. Remove from oven and allow to cool.
5. Once cooled, mix in cornflakes, toasted coconut chips and freeze-dried strawberries.
6. Store granola in an airtight jar or container until ready to eat!